feedback from our Golden Egg promotion
March 29, 2010
A huge thank you to all who participated in our Golden Egg Promotion!  Our lucky winner (chosen by Random.org) is Lilith, congratulations!
We had a great response from you about our annual "Find the Golden Egg and Win!" promotion.  Read some of the great responses from our facebook fans below. 
I love how easy it is to interact on our fan page.  If you haven't checked it out yet, I invite you to do so here.  We update it regularly (often a few times a day) with news about sales, new products, special offers, product feedback. . . it is also a great place to ask us questions or post feedback (and/or photos) of products you have ordered.  Hope to see you there!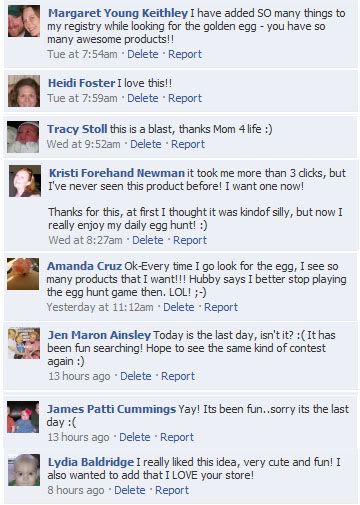 Mom 4 Life. Now that Ashley owns Mom 4 Life, I am focusing my energies in homeschooling and asking God to use me in other areas.
Follow Me:

The post feedback from our Golden Egg promotion appeared first on Mom4Life Blog.
Leave a comment