Peach Cobbler: make it now, enjoy it this winter!
I am going to give you a fair warning.  If you don't like fresh peaches, peach cobbler, drying peaches or canning peaches you are NOT going to like this post or the next few I have planned.  Just click away and come back this fall when I am talking about something else–like making applesauce.
Last Saturday I bought 140 pounds of peaches from an orchard that delivers to our local Farmer's Market.  I was only planning on getting 100 pounds but was offered two free boxes of "split pit" peaches (this means peaches with pits that are. . . wait for it. . .split) and there is no way I an turn down fresh, free peaches.  I loaded up the van and the kids and I munched on peaches as we drove home fueled by the peach juice dripping down our arms (note to self, next year bring wet wash rags).
I arrived home and sorted out the peaches taking those that were the most ripe or bused and setting them aside for immediate use and separating the rest into single layers in the boxes and their lids so that they could continue to ripen without touching (if they are not touching and one starts to go bad, it prevents the neighboring peaches from going bad as quickly).  After Quinten discovered how fun it is to reach into the boxes and squish the soft, juicy flesh, I quickly stored the boxes out of reach in a closet.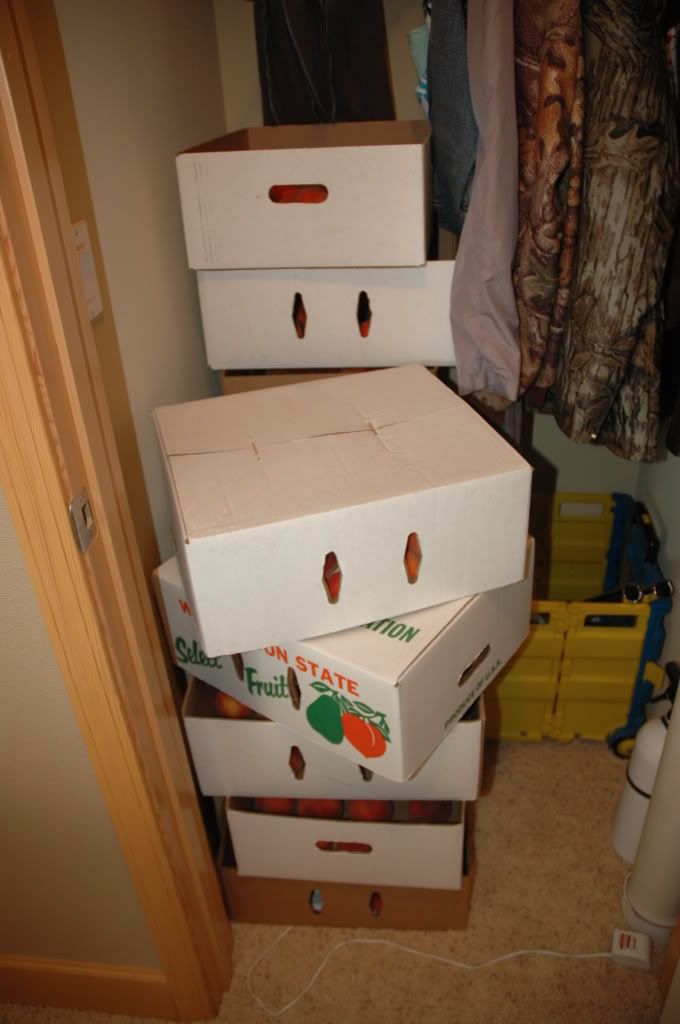 Two days later the fun began.  I started by using my bruised peaches in a dish that will be cooked and frozen.  Peach Cobbler is one of my favorite things to make for the upcoming cold months.  I make the cobbler filling ahead of time and freeze it for later use.  The recipe that I use is fast and especially easy because you don't have to peal the peaches first.
First chunk up 4 cups of peaches (about 6).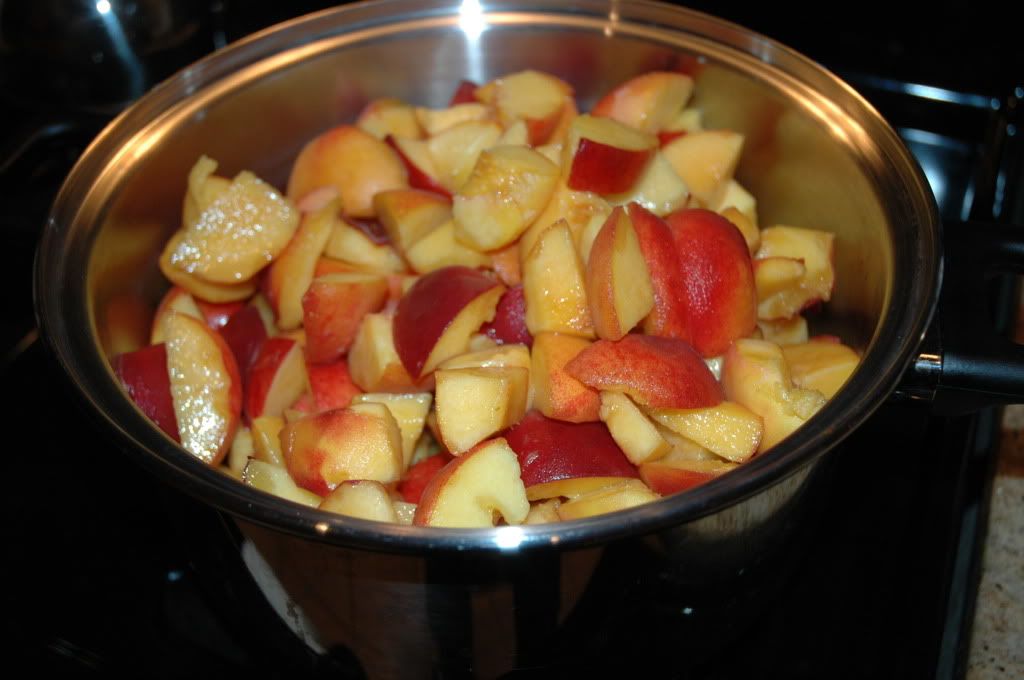 Then add sugar, cornstarch, cinnamon and lemon juice in a 2-quart saucepan (exact measurements are found in a link below).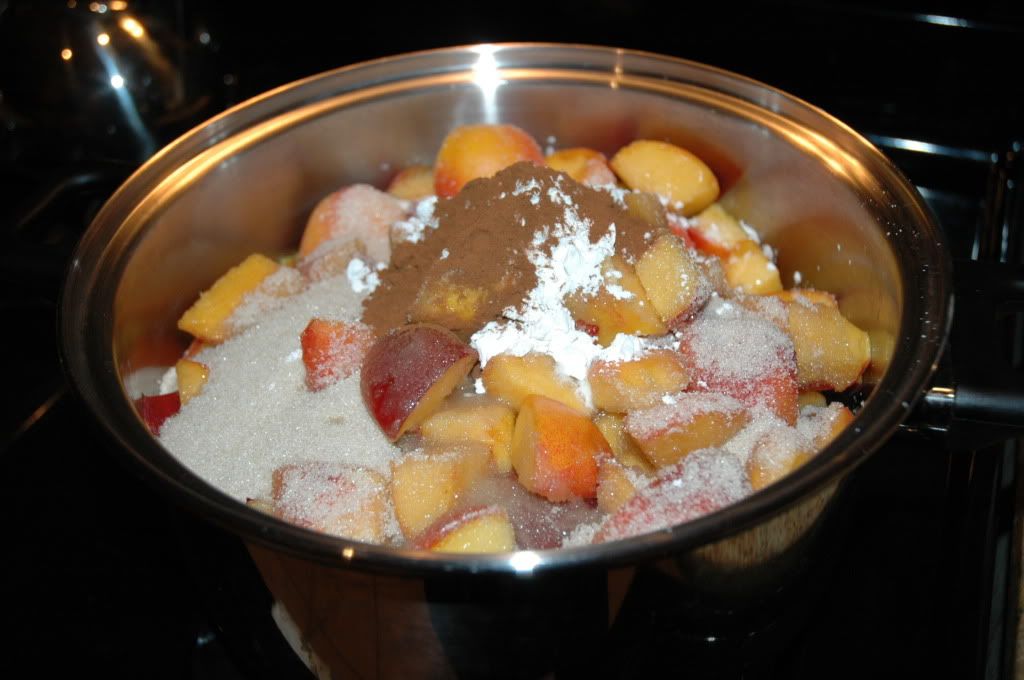 Cook over medium heat stirring constantly, until mixture thickens and boils. Boil and stir 1 minute. Allow to cool.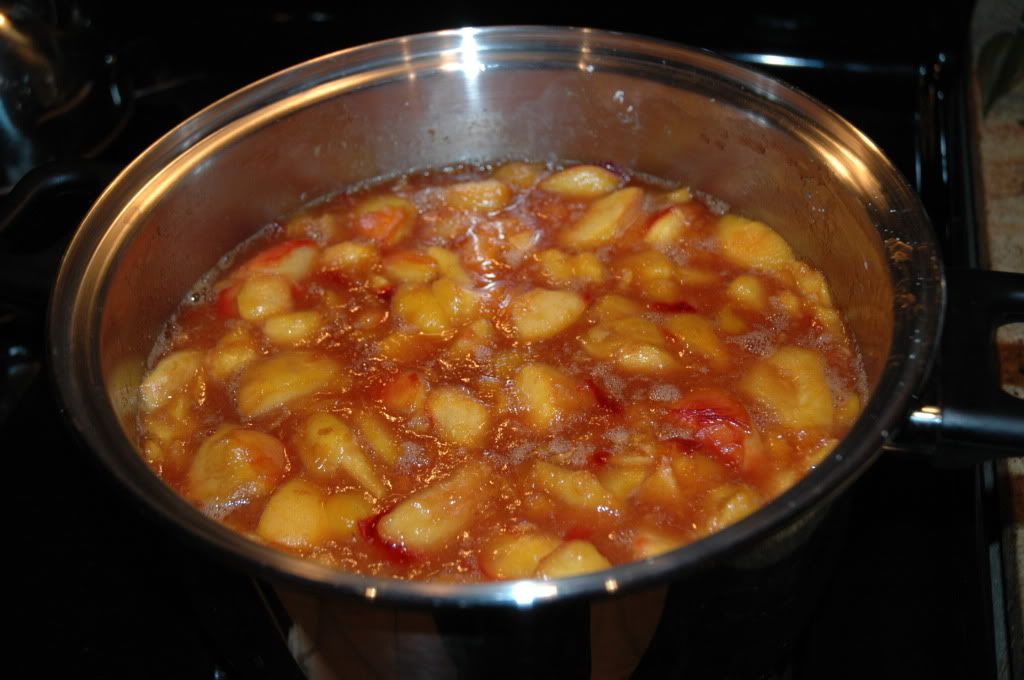 After it fully cools, separate into gallon size zip lock bags and freeze it for later. When it is time to cook, place the sealed bag in warm water.  It will thaw in about 5-10 minutes.  While it is thawing you can mix up the cobbler topping.  Add the mixture to a pan, top it with the cobbler and bake!
I can throw this dessert together in about 10 minutes and it is ready in about 45 minutes  (including thawing and cooking time) and it tastes FRESH!  A lovely treat in the middle of winter! I have made this same dessert with nectarines (simply substituting the nectarines for peaches) and it was just as good. I have also used a "crisp" topping instead of the cobbler for something different and that is also very good.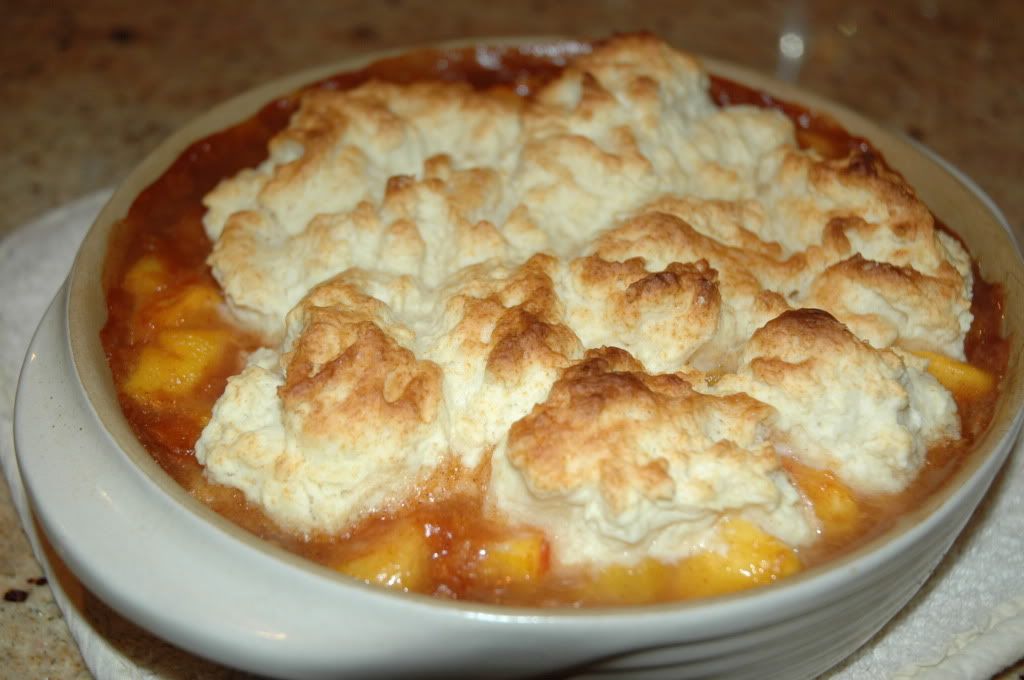 Want the full peach cobbler recipe? (click the link and you can email the recipe to yourself)  I saved it in my ZipList (another awesome website I recently found out about through Carley over at Mothercraft Coaching).  She did a video tutorial of ZipList and I immediately started using and loving it.  You can quickly and easily clip all the great recipes you find on-line into your own "recipe box" or add your own favorites.  Then when it is time to go shopping, simply click on the recipes you want to make and voila, the ingredients are added to your shopping list (which is also accessible via your phone–or can be sent as a text message)!  Come on, you can't tell me that is not super cool!
AND if you create your own free account then with the click of a button you can add any ZipList recipes that I share to your recipe box (an advance warning: I plan to start linking to my ZipList recipes in my posts).  In fact I even have a bonus dessert to add to your ZipList recipie box. . . check out this amazing Strawberry Cream Pie dessert that my friend Kira just posted about (photo teaser below).  She made it for me once and I loved it so much I made it myself THE VERY NEXT DAY!
Follow Me:
The post Peach Cobbler: make it now, enjoy it this winter! appeared first on Mom4Life Blog.
Leave a comment