Kitchen drama: from graham crackers to blueberry boy bait
As part of my 2011 New Year's goals, I have decided to embark on a few new kitchen adventures–some recipes that I haven't yet made but have been wanting to.  First on my list was homemade whole wheat graham crackers. Deciding to forgo the opportunity for a Sunday nap while Quinten slept, I instead went to work on my crackers while day dreaming of the ohhhs and ahhhs that would soon follow as my children munched on them happily.
I may have rolled them a little to thin, my oven may be a little hotter than expected or I may not have rotated them in the oven quite right, but what transpired was nothing less than a disaster as smoke started pouring forth from my oven as one minute still remained on my kitchen timer.  I will let you in on a little secret about me.  I don't handle kitchen failures well.  They make me grumpy and sometimes I want to cry.  My friend Kira who inspired me to try this recipe with her great blog post tutorial promptly received a text from me with an accompanying image of my smoking crackers and we messaged each other back and forth trying to access the cause of my failure.  She has encouraged me to try again and I am determined that I won't be beat by a cracker–I will prevail.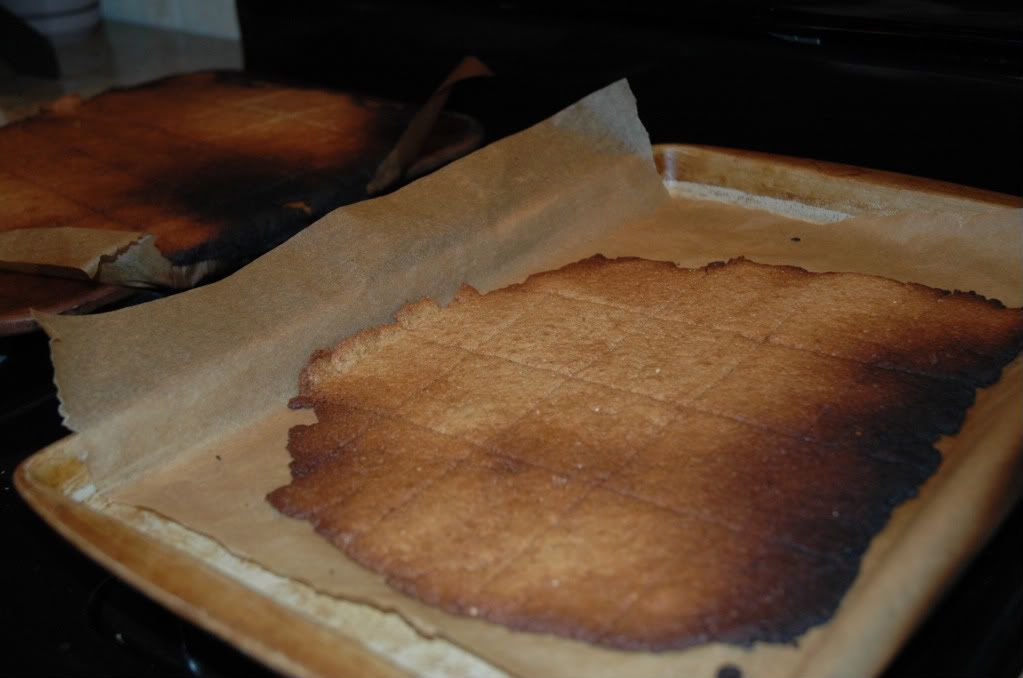 However, the failure wound is still too fresh to try again just yet, so instead I decided to play recipe doctor to a family favorite for Ashlyn's breakfast dish tomorrow.  Blueberry Boy Bait is a yummy, not all that good for you coffee cake type breakfast treat that we enjoy from time to time.  I had fun tweaking the original recipe to help transform it into something a little more healthy.  By healthy I mean that I improved the flour to sugar ratio, added some whole wheat flour and reduced the butter while adding in some coconut oil.  The final result turned out better than expected and the changes were virtually undetectable.  Success!  Now I can await the ohhhs and ahhhhs at breakfast time tomorrow:). If you would like to view my tweaked Blueberry Boy Bait recipe in ZipList, click here or simply read below.
-1 cup freshly ground organic soft white whole wheat flour (you could also use whole wheat pastry flour) and 1 1/4 cup unbleached white flour
-1 cup organic cane sugar
-1/3 cup organic butter
-1/3 cup extra virgin coconut oil
-2 teaspoons baking powder
-1 teaspoon salt
-2 egg yolks
-1 cup raw milk
-2 egg whites
-1 cup blueberries (I use frozen)
1. Preheat the oven to 350 degrees F.  Grease and four a 9″x13″ or 9″x9″ (if it has deep sides) baking dish (I used a 9×9 Pampered Chef stone and am able to skip the "grease and flour" step as it is well seasoned).
2. In a large bowl, stir together the flours and sugar.  Cut butter and coconut oil (it will be a solid at room temperature which is just fine for this recipe) into the flour and sugar using a pastry blender or a fork until pea sized.  Measure out 3/4 cup of the mixture and set aside.  Stir baking powder and salt into the remaining mixture, then mix in the egg yolks and milk using an electric mixer on low speed for 2-3 minutes.  Because I added whole wheat flour I only mixed for 2 minutes as it is best not to over mix whole wheat flour.
3. In a large glass or metal bowl, whip egg whites just until stiff peaks begin to form.  Fold egg whites into the batter.  Spread batter evenly into the prepared pan.  Sprinkle blueberries over the batter (see first image below) and then sprinkle the reserved crumb mixture over the top (see second image below).
4. Bake for 40-50 minutes in the preheated oven, or until the cake springs back when lightly touched in the center (see last image).
5. Enjoy!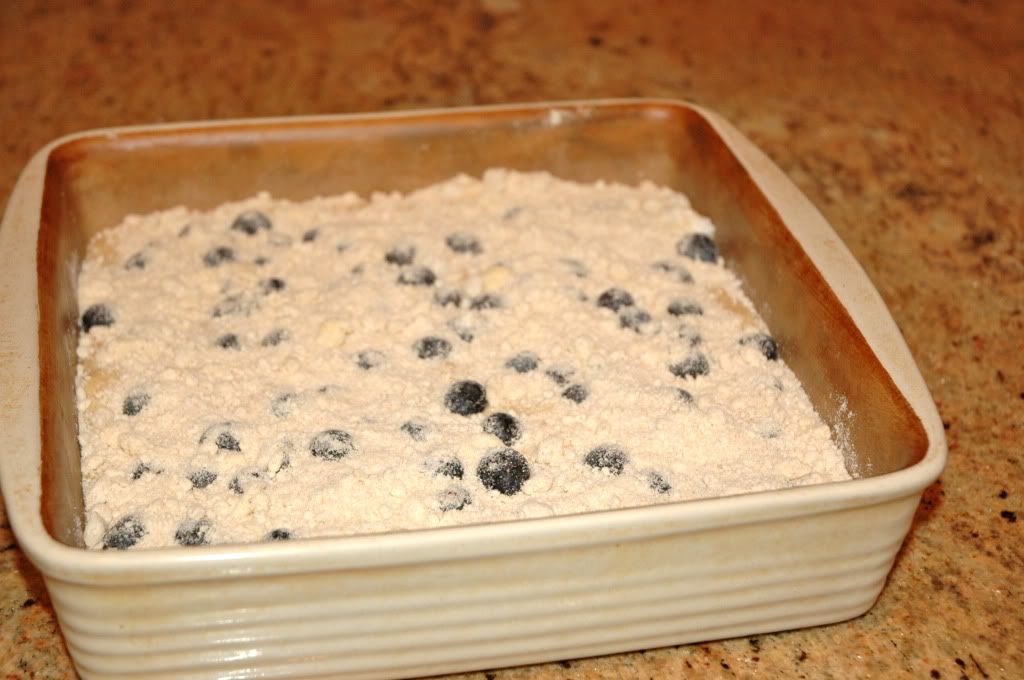 Looking for some more great recipe ideas or have one to share?  Head over to this recipe exchange and this blog carnival!
Follow Me:
The post Kitchen drama: from graham crackers to blueberry boy bait appeared first on Mom4Life Blog.
Leave a comment