Last Year's New Year's Resolution: become a bookworm
April 19, 2011
I realize that I am about four months too late to be writing a post about New Year's Resolutions, but don't let that distract you.  You may remember when I shared a few food resolutions with you last year, however, in re-reading that post I saw that I never got around to sharing my personal goal: to read one new parenting book a month. I had a stack that I had been meaning to get through for quite some time and felt this was one way I could hold myself accountable to doing it.  To be honest, it had been quite some time since I had finished a book.  Parenting, as you well know, can keep you super busy and "extras" such as date nights, relaxing reading or exercise (all of which could be argued, should not be considered extras) can easily fall by the wayside, if I am not intentional about them.
First, confession time: I didn't get though one book a month as planned.  However, I did read five.  They were all excellent and each one influenced my desire to parent in a Godly, intentional way.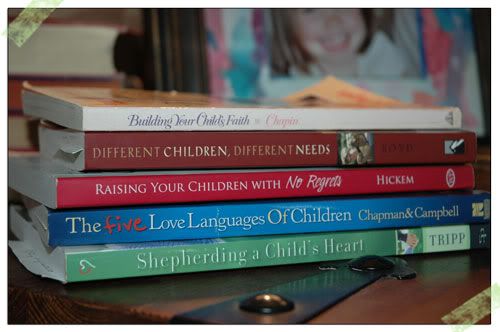 This year I don't have the same reading goal, but I do still have books I am looking forward to reading.  Currently on my bed stand is Grace Based Parenting by Tim Kimmel and I think the principles presented and the biblical basis for which they are presented is right on.
How about you, do you take time to enjoy a good book?  When do you fit it in (I read at night after the kids are in bed)?  Have any good books to recommend to us?
Follow Me:
The post Last Year's New Year's Resolution: become a bookworm appeared first on Mom4Life Blog.
Leave a comment