Ready to hit the Mother Load?
May 02, 2011
TODAY begins a week of opportunities to win great prizes by adding fabulous new Mom 4 Life products to your gift registry.
May 2-6, we will announce a new product every day that you could win.
Check out all the details on our Mother Load Mother's Day Gift Registry Giveaway page!
Ready to hear about our first prize?
Family Circle of Love Birthstone Hearts Hand-Stamped Necklace (Sterling) by Bella Merce
Retail Value: $95.95
This hand stamped necklace features an 1-3/8″ open circle pendant personalized with the names of your choice, which are separated by a tiny heart design. The corresponding Swarovski birthstone hearts dangle in the center. Pendant hangs from a sterling silver chain in the style of your choice with a 2″ extension and Bella Merce's signature heart tag.
Now you can't tell me you don't want to win that!
So what are waiting for? Hop on over to our Mother Load promotion page, and get started!
ALSO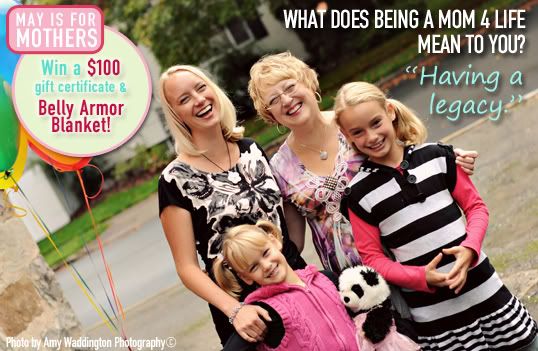 We're celebrating this month by giving you a chance to win $100 gift certificate from Mom 4 Life AND a Belly Armor Radiation Protective Blanket!
Enter by filling out the form on our May is for Mothers page!
….and don't miss the opportunity to see what being a Mom 4 Life means to our customers and staff in a special video…..
Follow Me:
The post Ready to hit the Mother Load? appeared first on Mom4Life Blog.
Leave a comment