Top 5 kids' audio picks for road trips
Earlier this month our family took a 7+ hour road trip together to the coast of Washington.  In many ways this distance seems like small beans compared to the times we trek from Northern Idaho to Minnesota or Southern California to visit family.  However, any extended car seat time can leave little ones (and their parents) longing for the destination significantly before the miles have actually been clocked.  Thankfully, we have discovered a few audio treasures that our family turns to again and again when we need some mental stimulation (or distraction) on the open road.  Perhaps your family will enjoy them as well.
First up: A classic radio show that has aired since 1987.  I remember listing to this as a kid.
Your along for the ride as the endearing cast of characters residing in the town of Odyssey tackles topics such as faith, honesty, responsibility and more.  Find out which radio stations broadcast Adventures in Odyssey or click on their "Podcasts & Downloads" link to subscribe in itunes or purchase CDs.
2) Jungle Jam by Fancy Monkey Studios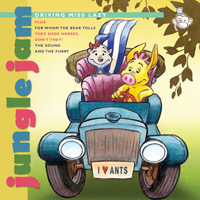 You will giggle right along with your kids as lessons on laziness, envy, forgiveness, jealousy, kindness, greed and more unfold with a creative cast of talking jungle animals.  If you live in the right area (click "Jungle Jam>Stations" on their website to check), you can listen to these zany, delightful stories for free but if your family is like mine you will want to purchase a CD or download your own episodes so you can enjoy them again and again.  Their website is not too easy to navigate so to purchase CD's click "Jungle Jam>Products>Single CD's" and to purchase downloads (each $3.95) click "Jungle Jam>Products>Downloadable Episodes".  I promise you won't be disappointed.
If your trip is longer your car might appreciate listening to something more in depth and lengthy.  Our favorites?
3) The Chronicles of Narnia Radio Theater
The quality of C.S. Lewis' writing combined with the audio talents of Tyndale Entertainment is simply remarkable.  These classic stories and their timeless lessons are sure to be remembered for years to come.
4) The Jesus Storybook Bible CDs
Our FAVORITE Children's Bible can now be enjoyed on the road as we watch God's creation pass us by outside our windows.  The repeating theme throughout the entire Bible is "every story whispers His [Jesus'] name" and this storybook Bible weaves that theme with intentional beauty.
Perhaps your car is more in the mood for bouncing, clapping and singing to the beat.
5) If so, Seeds Family Worship is your pick.
Introducing lively songs with lyrics taken straight from Scripture, both you and your kids will soon be singing your praises to the Lord in style. Your only problem will be deciding which CD to buy first!
Please note: Some of the links above are Amazon affilate links however I would never recommend anything that I do not fully support or endorse.
Another great resource I recently came across that you may wish to check out before your next road trip were these "tried and true road trip tips" by Power of Moms which includes everything from packing tips, ideas for car activities and supplies as well as a handy PDF Road Trip Packing and Prep Checklist.
What about your family?  I'd love to hear your favorite audio picks or road trip tips so please share in the comments!
Follow Me:
The post Top 5 kids' audio picks for road trips appeared first on Mom4Life Blog.
Leave a comment