thankful for my bathroom buddy
August 22, 2012
My husband and I just celebrated our 13th wedding anniversary yesterday.
Below is one of my favorite pictures from our wedding.  If you look close enough you can see my mother standing behind me and my good friend and personal assistant sanding behind Trent, both nervous that I would fall and skin my knee before the wedding began:).
I married a joy-filled man who is both fun yet grounded, wise and careful yet willing to take risks and be spontaneous.  I love him.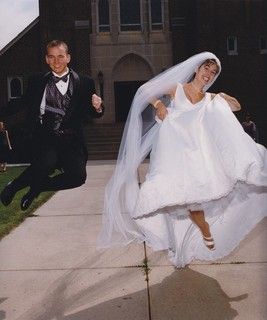 This week I received a unique kind of anniversary present.  My lower back went out on Sunday afternoon.  Not the "oh dear, I can't seem to bend over without it hurting" kind of 'out' but the "oh dear, I can't stand up and walk to the bathroom without holding on to you" type of 'out'.  So guess who has been my sidekick since then?  My lovely groom.  Trent has taken time off work and taken over the household needs with a servant heart that has blessed me deeply.
It isn't the first time.  He has done it before: a few months ago when my back did this.  When I was on bed rest for a few months during my last pregnancy.  When I had back surgery 10 years go. . . he has been faithful to his vow to love me through sickness and health.
Along the way we have collected lovely memories too. Like the one he gained this week as he found me in the bathroom laying flat on my stomach on the floor by the toilet, pants around my knees.  You see, in a moment of feeling like I could get up on my own, I tried to go the bathroom when he was out of the house and found I couldn't stand up after sitting down on the toilet.  As I lay on the floor waiting for him to return to the house, I couldn't help but be filled with gratitude that God has provided Trent to love me through the rough spots in life.  Kind of makes me feel like jumping for joy, well almost. . . . first I better work on going to the bathroom by myself again.
Follow Me:
The post thankful for my bathroom buddy appeared first on Mom4Life Blog.
Leave a comment